Captain Kjell Klevan received FoF Norway's Award for his contribution to Norwegian aviation.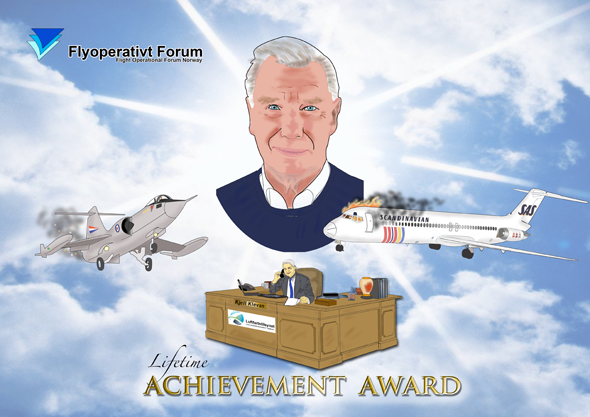 During the Conference dinner on April 9th 2013, Captain Kjell Klevan received FoF Norway's Award for his longstanding service and achievements for Norwegian aviation. He received the award after more than 50 years as an active pilot and CAA Inspector. The presentation was applauded by the plenary.
The receipient of FoF Norway's Award 2013 was born i 1940. He started his career in the Royal Norwegian Air Force in 1959. He served as a fighter pilot at 334SQD where he flew F86K, later at 331SQD flying F104 until he left the Air Force. According to his collegaues, he is a skilled and vice pilot, always perfoming suberbly.
In 1967, he started his civil career in SAS, where he flew DC8, DC9, B747 and B767. February 2nd 1989, he demonstrated his remarkable skills when he managed to return a DC9 with smokefilled cockpit to Trondheim airport, where he landed safely with 108 passengers and crew on board. The receipient is a fairly quiet man, but when he speaks, everyone is listening, and during this incident, he communicated in a superb manner. According to air host Larry Skaar, his body- and sign-language behind the oxygen mask was crucial for the outcome of incident. This remarkable achievement is well known in the aviation industry.
He retired from SAS in 2000 and became then a CAA inspector, where he now heads the Aeroplane Section.
The receipient of this award has, during all these years, been a dedicated and focused individual with an eye both for details and major issues. Through his work, he has influenced flight deck- and cabin crew, as well as his collegues in the CAA, towards a proffesional attitude. He receives this award for his outstanding service and achievements in Norwegian aviation and flight safety. When he soon retires, he is leaving behind an extraordinary legacy.
Flight Operational Forum Norway's Award 2013 is presented to Kjell Peder Klevan.